Press Releases
November 14, 2022
Custom Lockdown and Emergency Mass Notification Feature within Connect ONE® Give Dealer's Customers More System Flexibility [Show All]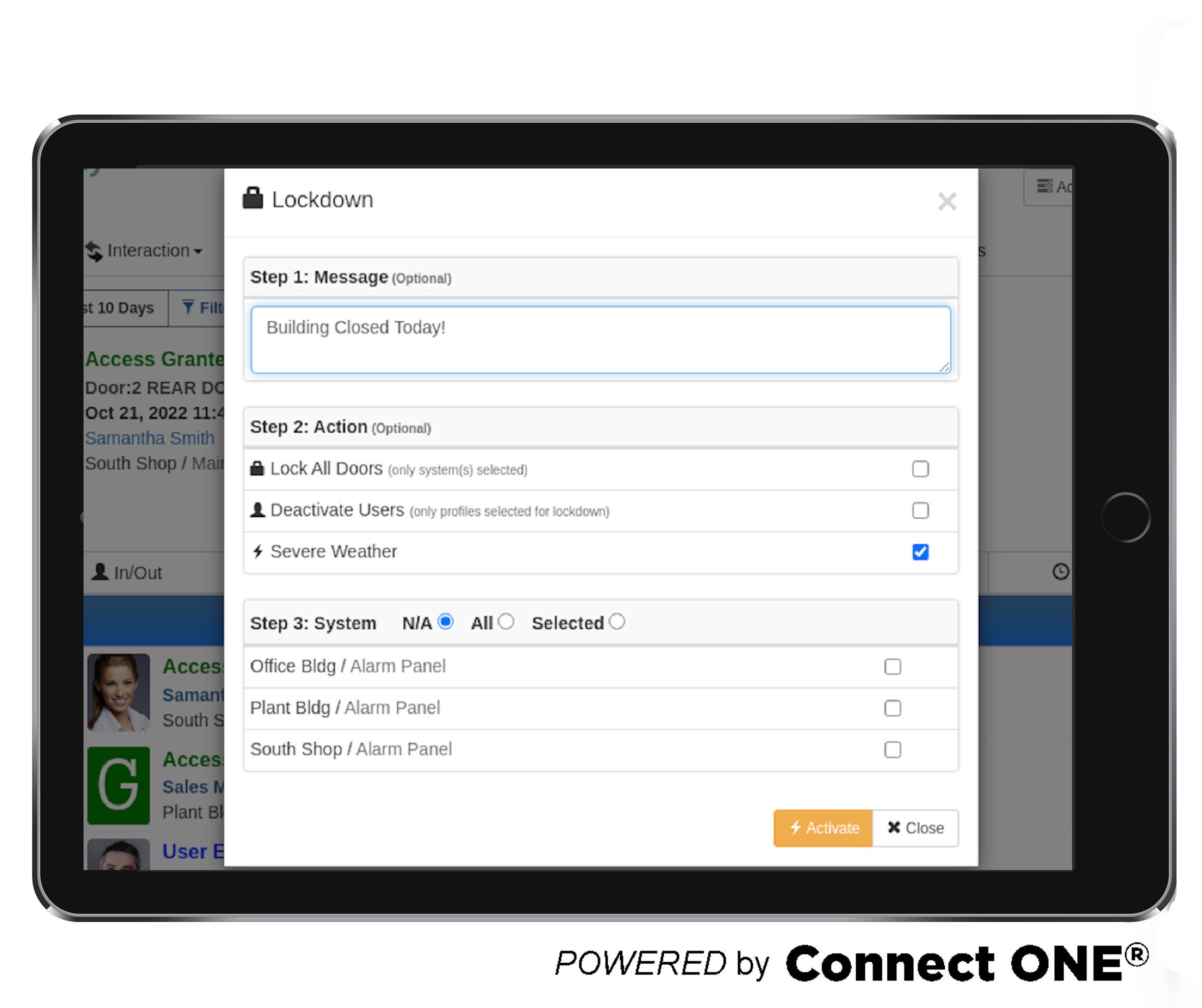 Connected Technologies LLC, Monument, Colo., November 14, 2022—Now, Connect ONE's powerful cloud-hosted management platform provides the means to tailor lockdowns and emergency mass notifications throughout a facility – while simultaneously alerting occupants to hazards or next steps, like evacuation.
As part of the Connect ONE management interface, new options in Task Rules make it simpler to initiate custom lockdown actions and/or configure general emergency notification options without a complete system lockdown. Like other features added to the award-winning Connect ONE interface, including the recent National Weather Service alert detection, the custom lockdown and emergency mass notification feature was added to the platform by dealer request.
One interface; facility-wide control
The Task Rules initiate different actions for system control and interaction with a single click: an action option rule logs events (with status and type of event) while the lockdown feature includes messaging and optional subsequent actions (lock all doors, deactivate users, etc.). Lockdowns can be applied to all or individual doors/systems and disable all users or only specified user profiles.
Custom messaging in the lockdown window allows for an unlimited number of use cases and provides instant information to the building occupants, for example:
A severe weather condition sends notification that the building will be closed, ensuring the safety of employees so they don't travel to the location during inclimate weather.
A chemical spill in the building warns occupants to evacuate and/or quickly locks specific doors to control access into the affected area.
A fire alarm unlocks a set of doors for occupant evacuation and to provide the fire department and first responders quick and easy building access.
The activation can also be sent to an external mass notification system via the Common Alerting Protocol (CAP).
Mass notification rules options are easily configured by profile (group) without any complexity of constantly editing rules upon personnel changes. This provides consistent and streamlined methods to notify occupants based on personnel type or building location.
The Connect ONE software solution controls intrusion, access control, video surveillance, critical environmental monitoring and energy management systems and interfaces with additional popular commercial fire alarm panels for data event monitoring.
Connect ONE works with Bosch B and G, DMP XR/XT, ELK M1 and Honeywell Vista Turbo security and access control panels. It also integrates with ASSA ABLOY Aperio® wireless locks as well as Digital Watchdog, OpenEye, ExacqVision and Eagle Eye Networks video technologies. With the Safe Passage module for access control user authorization and ScanPass® mobile credential for frictionless entrance control, dealers and their customers have the latest services to manage multiple locations through a single Connect ONE user interface.
For more information, please visit Connect ONE, call 866.976.3520 or email info@connectedtechnologies.us.
About Connected Technologies LLC*
Connect ONE® and ScanPass® Mobile Credential are products of Connected Technologies LLC. The Connect ONE cloud-hosted interface manages multiple solutions such as security, access control, mobile credential access, video, energy management, critical environmental monitoring and CheckPoint Tours, with an easy-to-use platform accessible from PC, laptop, smartphone or tablet. For more information visit www.simplifywithconnectone.com or call 866.976.3520.
*All Connected Technologies' brand and company/product names are trademarks or registered trademarks of Connected Technologies, LLC all rights reserved. Protected by U.S. Patent No. 7,825,796.
Connected Technologies Media Contact:
Deborah O'Mara
773.414.3573 (m)