Case Management
Automatic notification and seamless work flow execution of service and maintenance for comprehensive facility management and maintenance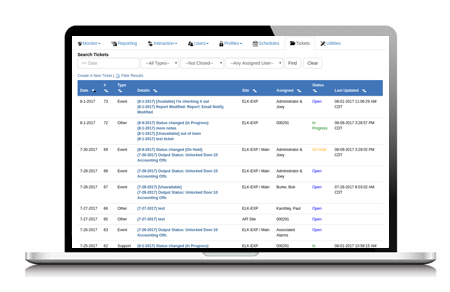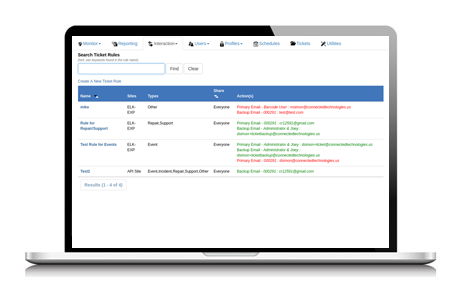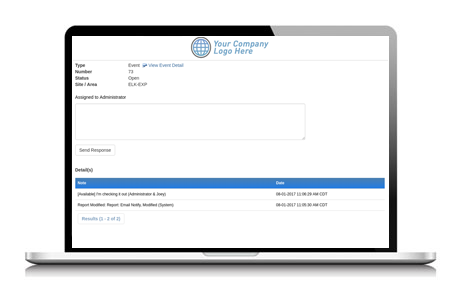 The Connect ONE Case Management Module was designed in response to customers looking for streamlined methods to track critical event responses, incidents, and repairs at one or multiple locations. The module interfaces directly with the security system application or can be deployed as a standalone service. Ideal for building and property management companies, multifamily and multi-tenant users or national accounts with numerous locations.
Benefits:
Creates and generates critical event and repair cases targeting authorized respondents within the organization and other stakeholders, with detailed information on the issue and embedded tracking to make sure all exceptions or issues are addressed.
Establishes a chain of command and emails pre-populated lists of responsible parties, who can email response as to whether or not they are available to handle the issue. If someone is unavailable the issue transfers to the next available person. Only those currently responsible receive ongoing email alerts.
Stores all history of the critical event or history of a repair at the facility or any location across the enterprise or campus.
Provides real-time notification and interaction of a critical or alarm event within a facility automatically generating a case and email notification, eliminating manual phone calls or text messages and confusion over who is handling the situation.
Shares information to all service and repair vendors in real time so they are apprised of the situation and current status.
Site and user information are already a part of the Connect ONE interface, so dealers just need to activate the module, no complex setup or programming.
With this facility management application security dealers become more responsive, provide more value to their customers, and receive additional monthly reoccurring revenue. The Connect ONE case management module provides a predictable work flow on building reapirs, security and critical environmental monitoring, ensuring issues are handled and completed quickly and efficiently. Instead of just competing against others offering traditional interactive services, dealers can deliver comprehensive facility management in addition to intrusion detection and access control. The customer knows exactly what's happening with their facility at every location, and what remedies have been taken or might be necessary.
Service/Repair Tracking
The module tracks service and repair cases in real time, especially helpful in a large organization, facility or campus environment, ensuring prompt handling and remediation. It also stores the history of a repair at the customer's facility and notifies responsible parties in real-time of any actions taking place related to the service.
Incident Case Management
Tracks incidents and specific actions taken and remedies or if additional service may be required with detailed reporting, work orders, history, photos, or other documentation uploaded directly to the case so all parties are apprised of current status.
Critical Event Response History
In the example of critical environmental monitoring, a freezer alarm generated because of deviation from preset thresholds or inoperability notifies responsible parties via email or text message. A case is automatically created and the process follows preset rules on who to notify. The primary person responsible indicates whether or not they are handling the situation; if they are unable their response automatically pushes the notification to the next person in the queue. This avoids multiple parties showing up to handle the issue, or not having anyone handle it at all. The successful completion of service or next steps are also documented until the case is closed.