Press Releases
March 16, 2022
Connected Technologies adds new fire monitoring control panel capabilities [Show All]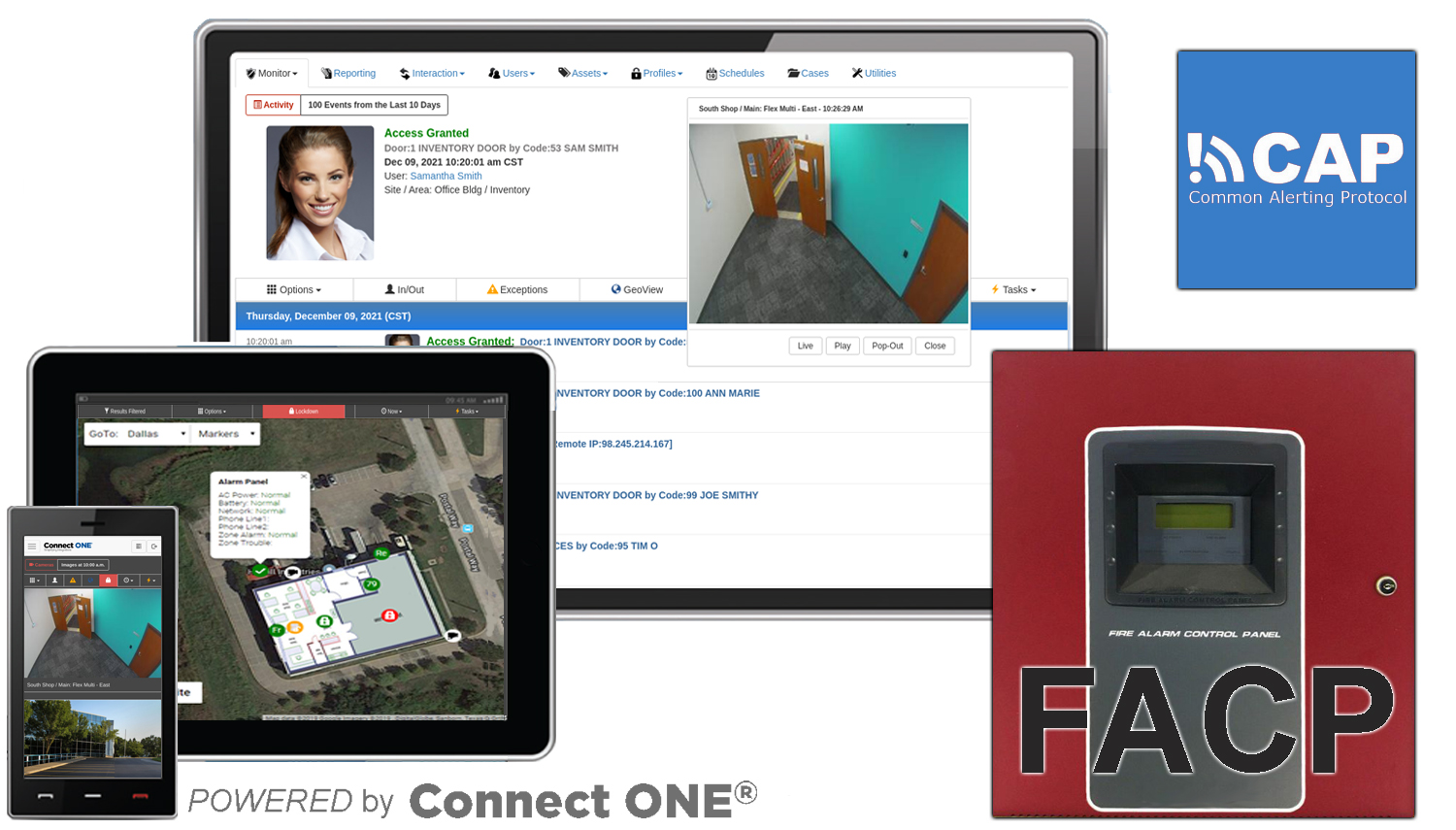 Monument, Colo., March 16, 2022—Connected Technologies LLC, maker of the award-winning Connect ONE® cloud management platform, has expanded its fire alarm monitoring capabilities, allowing dealers to add growing fire alarm services to their business. According to a recent report from Grandview Research, the demand for fire protection systems will continue to increase steadily from 2022 to 2030.
Connect ONE, the single software solution that controls intrusion, access control, video surveillance, critical environmental monitoring and energy management systems now interfaces with additional popular commercial fire alarm panels. Along with the ability to integrate with the fire alarm modes of Bosch and DMP combination control panels, dealers may also use Edwards, Fire-Lite and Notifier fire control panels for full-data monitoring within the Connect ONE interface. Other manufacturer integrations may be available upon request.
With a single dashboard view of all security and fire alarm events, Connect ONE works with mass notification signaling protocols and provides instant notification of events via email, text message, push, Microsoft Teams and/or mass notification app.
Capabilities of the fire monitoring include:
Full-data event capture - fire alarm printer output connects to the RS-232 port on the Connect ONE network gateway (Barix Barionet controller)
Automated reports with the ability to run point audits of fire alarm testing and inspection activity

Onscreen alerts and real-time notifications
Integration with video and other critical systems
Integration with mass notification platforms via Common Alerting Protocol (CAP) messaging
Connect ONE works with Bosch B and G, DMP XR/XT, ELK M1 and Honeywell Vista Turbo security and access control panels. It also integrates with ASSA ABLOY Aperio® wireless locks as well as Digital Watchdog, OpenEye, ExacqVision and Eagle Eye Networks video technologies. With the Safe Passage module for access control user authorization and ScanPass® mobile credential for frictionless entrance control, dealers and their customers have the latest services to manage multiple locations through a single Connect ONE user interface.
For more information or to inquire about other commercial fire integrations, visit Connect ONE, call 866.976.3520 or email info@connectedtechnologies.us.
About Connected Technologies LLC*
Connect ONE® and ScanPass® Mobile Credential are products of Connected Technologies, LLC. The Connect ONE cloud-hosted interface manages multiple solutions such as security, access control, mobile credential access, video, energy management, critical environmental monitoring and now, CheckPoint Tours, with an easy-to-use platform accessible from PC, laptop, smartphone or tablet. Connect ONE interfaces with the complete line of Bosch Security, DMP, Elk Products and Honeywell Turbo controls and provides an easy path to add managed services. For more information visit www.simplifywithconnectone.com or call 866.976.3520.
*All Connected Technologies' brand and company/product names are trademarks or registered trademarks of Connected Technologies, LLC all rights reserved. Protected by U.S. Patent No. 7,825,796.
Connected Technologies Media Contact:
Deborah O'Mara
773.414.3573 (m)