Press Releases
January 7, 2022
An exciting, comprehensive update to the platform makes it easier to manage systems, users and permissions, rules and automated reports. [Show All]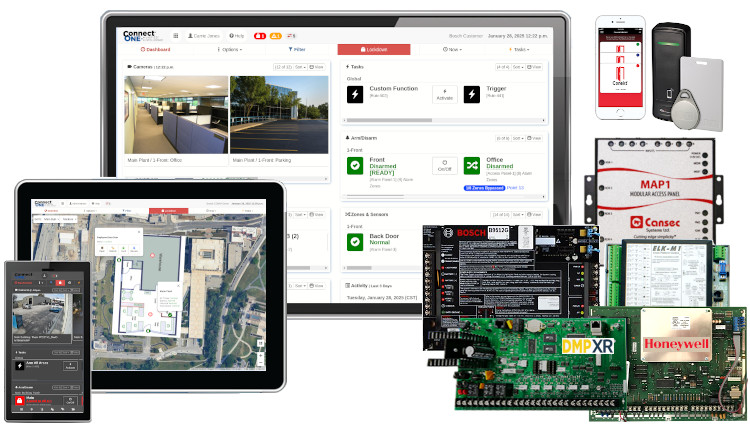 Monument, Colo., January 7, 2022—Connected Technologies LLC, maker of the award-winning Connect ONE® cloud management platform that controls intrusion, access control, video surveillance, critical environmental monitoring and energy management systems, recently completed a comprehensive update to its application.
Starting with a fresh new look that offers an improved sense of intuitiveness and ease of use, especially in the mobile applications, users will find more detailed information in an easier to locate interface screen. Dealers can still rely on the same functionality and general layout of actionable buttons for a consistent experience—without re-training necessary.
Other features of the newly improved platform include:
A new card layout style which shows all relevant record information at a glance.
If the original list style is preferred it can be toggled at the bottom of the page, choosing either the new or former list layout view.
Users can retain their viewing preference across sessions and save that choice as default. Dealers can set a default for all customers and/or individually per customer.
Improved dark mode support, which reduces the amount of blue light for an upgraded experience.
Expansion of automated reports via scheduled task rules – now many more reports can be delivered on a schedule:

Event Activity Report (List all selected activity in chronological order)
Site Occupancy Report (List users which accessed each site and calculate total occupancy)
In/Out by User (List user in and out times for each area and calculate total time in an area)
Exit Exception (List users which have logged in but not logged out)
Asset Status List (List assets with the selected status such as return overdue)
User Status List (List users and their last activity such as all users not active in the last 90 days)
User Safe Passage Status List (List users and their Safe Passage status, such as all users with unapproved status)
System Code Expiration List (List all system codes and authority levels, including expiration status)
Environmental Zone Historical Data Report (List and graph environmental zones with associated alarm status for regulatory compliance)
Thermostat Historical Data Report (List and graph HVAC status recorded from the thermostats)

In addition, since incoming events can trigger task rules to activate, the report can also be delivered in response to certain critical events occurring. For example, a fire alarm event can trigger an Exit Exception report to be delivered. The report will show who has accessed the building but not exited (exit readers required to detect if the person left, otherwise the report will include all entries for the report period).
Along with the award-winning Safe Passage module for access control user authorization and ScanPass® mobile credential for frictionless entrance control, dealers and their customers have the latest services to manage multiple locations through a single Connect ONE user interface. Connect ONE works with Bosch B and G, DMP XR/XT, ELK M1 and Honeywell Vista Turbo security and access control panels. It also integrates with ASSA ABLOY Aperio® wireless locks as well as Digital Watchdog, OpenEye, ExacqVision and Eagle Eye Networks video technologies.
For more information on these new features and capabilities, visit Connect ONE, call (866) 976-3520 or email info@connectedtechnologies.us.
About Connected Technologies LLC*
Connect ONE® and ScanPass® Mobile Credential are products of Connected Technologies, LLC. The Connect ONE cloud-hosted interface manages multiple solutions such as security, access control, mobile credential access, video, energy management, critical environmental monitoring and now, CheckPoint Tours, with an easy-to-use platform accessible from PC, laptop, smartphone or tablet. Connect ONE interfaces with the complete line of Bosch Security, DMP, Elk Products and Honeywell Turbo controls and provides an easy path to add managed services. For more information visit www.simplifywithconnectone.com or call 866.976.3520.
*All Connected Technologies' brand and company/product names are trademarks or registered trademarks of Connected Technologies, LLC all rights reserved. Protected by U.S. Patent No. 7,825,796.
Connected Technologies Media Contact:
Deborah O'Mara
773.414.3573 (m)