Press Releases
December 8, 2020
ASSA ABLOY Integrates Aperio® Wireless Technology with Connect ONE® from Connected Technologies [Show All]
Protect more doors cost-effectively; works with leading control panels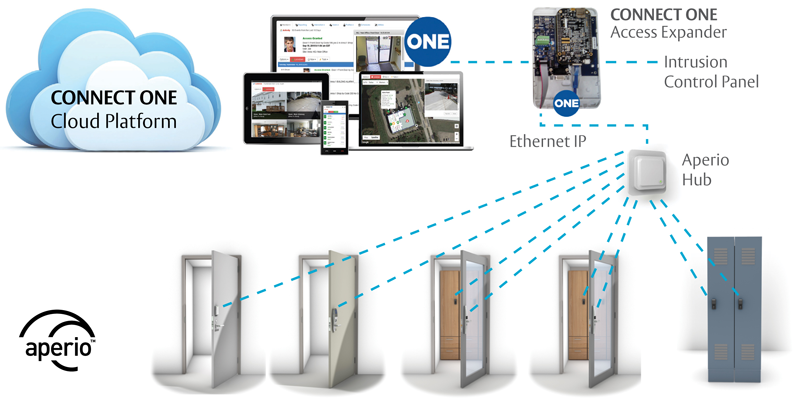 NEW HAVEN, Connecticut, December 8, 2020– ASSA ABLOY Opening Solutions completed the integration of their Aperio® wireless lock technology with the Connect ONE® cloud-hosted management platform from Connected Technologies, Monument, Colo. Connect ONE manages all connected customer devices, including wireless and hardwired locks, access control, intrusion, video surveillance, critical environmental monitoring and energy management from a single interface.
"We're excited to present this integration with industry leading ASSA ABLOY Aperio wireless devices to Connect ONE dealers," said Mike Simon, Managing Partner of Connected Technologies. "Now, dealers can easily expand their services to more doors and offer new protection possibilities that save installation time and money. In addition, the Aperio/Connect ONE integration works with popular Bosch, DMP, ELK and Honeywell Vista panels so they can be up and running with new specs quickly."
The Aperio integration offers Connect ONE customers an easy way to connect additional wireless locks to new and existing installations. Aperio is a global wireless platform that works with extensive locking hardware options from ASSA ABLOY Group brands, offering the flexibility to address a variety of applications throughout any facility. The platform uses wireless communication (IEEE 802.15.4) between the lock and an Aperio hub to provide real-time communication to the access control system, simplifying installation and reducing costs.
Aperio wireless locks map directly to the intrusion areas for an immediate armed status review to deny access when armed and can also disarm intrusion with proper authority upon granted access at the lock. Since the wireless locks are highly integrated with the control panel, user permissions are applied exactly the same for hardwired readers, allowing for a mix of wireless and hardwired reader/locks without additional set-up complexity. The integration also allows for a mapped hardwired relay output to initiate an auxiliary control upon access and a relay output to control an external door opener. Aperio locks use an encrypted wireless connection to an Aperio IP hub; each hub can communicate to a maximum of 64 locks.
"Connect ONE offers a simple, scalable solution that complements the Aperio offering perfectly," stated Mark Duato, Executive Vice President, Aftermarket, ASSA ABLOY Opening Solutions Americas. "This integration will offer dealers and end-users a highly flexible solution for comprehensive access management."
Connect One's ScanPass® Mobile Credential smartphone control is also supported with the integration, eliminating the need for card or fob credentials. Dealers can contact ASSA ABLOY to become certified to offer Aperio locks, which come in a variety of form factors and can be purchased through ASSA ABLOY Authorized Channel Partners.
About ASSA ABLOY Opening Solutions
ASSA ABLOY Opening Solutions leads the development within door openings and products for access solutions and homes, businesses and institutions. Our offering includes doors, door and window hardware, mechanical and smart locks, access control and service.
ASSA ABLOY Opening Solutions is part of the ASSA ABLOY Group, the global leader in access solutions. The Group operates worldwide with 49,000 employees and sales of SEK 94 billion, with leading positions in areas such as efficient door openings, trusted identities and entrance automation. Every day, we help billions of people experience a more open world.
About ASSA ABLOY DOOR SECURITY SOLUTIONS
ASSA ABLOY Door Security Solutions combines the expertise of the industry's most knowledgeable door opening experts with the comprehensive product offering of leading door and hardware brands to provide complete solutions to partners and end-users in commercial, retail, multi-family, government and institutional facilities. Coupling innovative technologies with insight on specifications, design, support, training and code compliance, ASSA ABLOY Door Security Solutions works closely with the architectural, security, facilities and integrator communities to address the many challenges they encounter serving and securing their customers. www.assaabloydss.com www.intelligentopenings.com
About CONNECTED TECHNOLOGIES LLC*
Connect ONE® and ScanPass® Mobile Credential are products of Connected Technologies, LLC. The Connect ONE cloud-hosted interface manages multiple solutions such as security, access control, mobile credential access, video, energy management and critical environmental monitoring with an easy-to-use platform accessible from PC, laptop, smartphone or tablet. For more information visit www.simplifywithconnectone.com or call (866) 976-3520.
*All Connected Technologies' brand and company/product names are trademarks or registered trademarks of Connected Technologies, LLC all rights reserved. Protected by U.S. Patent No. 7,825,796.
Connected Technologies Media Contact: Deborah O'Mara dlocommunications@gmail.com (773) 414-3573 (m)