Press Releases
June 15, 2020
New capabilities unveiled between DW Spectrum® and the Connect ONE® cloud platform [Show All]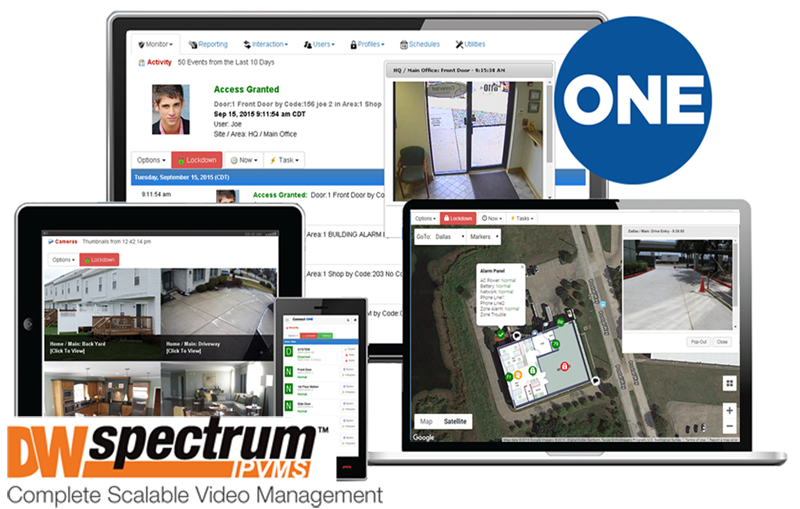 FOR IMMEDIATE RELEASE
Connected Technologies Launches New Digital Watchdog® Integrations So Dealers Can Add More Value to their Managed Service Offerings and Increase RMR
New capabilities unveiled between DW Spectrum® and the Connect ONE® cloud platform
Monument, Colo., June 15, 2020—Connected Technologies LLC, provider of a powerful cloud-hosted security management platform and Digital Watchdog (DW™), the industry leader in digital recorders, surveillance cameras and video management software have unveiled new integrations between DW Spectrum and Connect ONE that provide deeper reporting and management controls for dealers and their customers.
Connect ONE and DW Spectrum integrate natively through software to receive or trigger notifications or events without system configuration such as opening a vulnerable in-bound port on the end-user's network, port forwarding or connecting to the user's IP address. With the expanded integration, dealers can add new feature sets, events and notifications gathered from DW Spectrum's VMS, NVR or surveillance cameras for viewing and control on the Connect ONE, all-in-one interface.
"Connect ONE is focused on expanding the possibilities for integrated systems for our dealer-customers," said Dan Simon, Co-Founder and Managing Partner, Connected Technologies. "This integration gives dealers the ability to provide more value in their managed services offerings through Connect ONE," he said.
Connect ONE's users can receive events to monitor the health status of the NVR or perform special logging of activities or analytics. All Connect ONE Event Rules can be activated in response to NVR events such as report logging, notifications to users and system control – including arming, disarming, output control and lockdown. Connect ONE pushed system events such as arming, alarm, access, trouble and audit changes to the NVR are supported. Events are shown on the DW Spectrum interface to indicate the source and type of event along with a text description, such as user, zone, door, area, etc. Events received by the NVR can also record video bookmarks, trigger a camera preset and increase recording quality.
"We are excited to see our technology partners take a deeper dive into DW Spectrum's open architecture and all the functionality it offers," said Patrick Kelly, Director of IP Video Solutions, DW. "ConnectOne's ability to simplify integration with a wide variety of technology really presents an opportunity for DW Dealers to provide complete solutions."
DW Spectrum and Connect ONE integrate via direct network connection or DW Cloud. Following set up, users can retrieve a camera list for quick and easy configuration, view live video, search playback recordings, record snapshots upon an event from intrusion/access system for video verification and review a 10-second pre-event and up to a 45-second post event video clip.
DW Spectrum is a powerful and user-friendly IP Video Management software, highly optimized to provide unlimited scalability, unmatched bandwidth savings and simplified system setup and management. Connect ONE by Connected Technologies is a cloud-hosted integrated security management solution which provides a single user interface to control intrusion, access control, video surveillance, critical environmental monitoring and energy management. Connect ONE works with the Bosch B and G series as well as DMP XR/XT series, ELK M1 series and Honeywell Vista Turbo security and access control panels.
About Connected Technologies LLC*
Connect ONE® and ScanPass® Mobile Credential are products of Connected Technologies, LLC. The Connect ONE cloud-hosted interface manages multiple solutions such as security, access control, mobile credential access, video, energy management, critical environmental monitoring and now, CheckPoint Tours, with an easy-to-use platform accessible from PC, laptop, smartphone or tablet. Connect ONE interfaces with the complete line of Bosch Security, DMP, Elk Products and Honeywell Turbo controls and provides an easy path to add managed services. For more information visit www.simplifywithconnectone.com or call 866.976.3520.
*All Connected Technologies' brand and company/product names are trademarks or registered trademarks of Connected Technologies, LLC all rights reserved. Protected by U.S. Patent No. 7,825,796.
Connected Technologies Media Contact:
Deborah O'Mara
773.414.3573 (m)