Press Releases
October 3, 2019
New Partnership between Connected Technologies and Axis Company 2N® Offers Seamless Management and Control of IP Intercoms and Extensive User Capabilities With the Connect ONE® platform, dealers can view, control and manage thousands of 2N door entry syst [Show All]
FOR IMMEDIATE RELEASE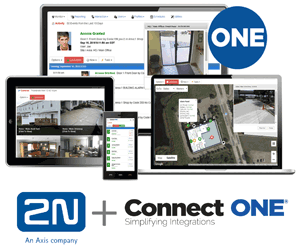 New Partnership between Connected Technologies and Axis Company 2N® Offers Seamless Management and Control of IP Intercoms and Extensive User Capabilities With the Connect ONE® platform, dealers can view, control and manage thousands of 2N door entry systems across the globe through a single interface.
Monument, Colo., and Chelmsford, Mass., October 3, 2019—Connected Technologies LLC, maker of a powerful cloud-hosted security management platform, and 2N, an Axis Company and the largest global manufacturer of IP intercoms, have developed a new integration to the company's door entry systems that allows for extensive management and control of the user population across any enterprise or multi-tenant solution—all through the Connect ONE interface. With this integration, users can easily add systems and populate user directory contact phone numbers and credentials across multiple locations enterprise wide.
The system is up and running at One National Harbor, a boutique condominium development overlooking the Potomac River in Maryland. The building is a Connect ONE cloud security management user and now with the recent 2N intercom system integration they can manage all the systems for their 100-plus condos from this single interface.
Now, 2N intercom and access control users can view all their systems through Connect ONE and manage credentials to easily add users, revoke credentials or establish time-expiring directory contact and/or access permissions. With two quick clicks in the Connect ONE interface, users can import all their 2N systems to the dashboard as well as other IP-connected intercoms or security systems. Another standout feature is the ability to provide batching—which allows the user to populate all contact information and credentials from one system to others, avoiding time-consuming and costly manual administration processes associated with inputting employees, tenants or users.
"We are happy that we can welcome on board our latest integration partner Connect ONE. Integrations and compatibility play a key role in the residential market and the opening of our system is ideal for this usage. I believe this partnership will help property managers provide better services for tenants," said CEO 2N Michal Kratochvíl.
"At Connected Technologies, we're committed to meeting the needs of dealers in the field and through this partnership we can effectively expand their services and offer easy, open management of 2N solutions," said Dan Simon, Co-Founder and Managing Partner of Connected Technologies and creator of the new integration. "We're excited to be working with 2N, a global leader in IP entry and access control systems."
Connect ONE by Connected Technologies is a cloud-hosted integrated security management platform which provides a single user platform to control intrusion, access control, critical environmental monitoring, energy management and video surveillance. 2N offers an open IP platform that integrates with SIP communications and follows ONVIF open protocol profiles.
For more information or to schedule a personal webinar about the integration, contact Connected Technologies today at 866.976.3520 or email info@connectedtechnologies.us.
---
About Connected Technologies LLC*
Connect ONE® and ScanPass® Mobile Credential are products of Connected Technologies LLC. The Connect ONE cloud-hosted interface manages multiple solutions such as security, access control, mobile credential access, video, energy management, critical environmental monitoring and now, CheckPoint Tours, with an easy-to-use platform accessible from PC, laptop, smartphone or tablet. Connect ONE interfaces with the complete line of Bosch Security, DMP, Elk Products and Honeywell Turbo controls and provides an easy path to add managed services. For more information, visit www.simplifywithconnectone.com or call 866.976.3520.
About 2N®
2N, an Axis Company, is the largest global manufacturer of IP intercoms and was founded in the Czech Republic in 1991. The company offers solutions including IP intercoms and access control. 2N complies with the most stringent international standards and 2N products are compatible with most third-party systems. In 2018 2N and Axis Communications joined forces in the U.S. and Canada. For more information, visit www.2nusa.com or call 978.614.2000.
---
*All Connected Technologies' brand and company/product names are trademarks or registered trademarks of Connected Technologies, LLC all rights reserved.
Connected Technologies Media Contact:
Deborah O'Mara
Email: dlocommunications@gmail.com
773.414.3573 (m)
2N Media Contact:
Jan Kapicka
2N Marketing Segment Manager
Email: kapicka@2n.cz