Press Releases
October 15, 2018
OpenEye® and Connected Technologies Partnership Yields Seamless Integration Between OWS Cloud and the Connect ONE® Platform [Show All]
FOR IMMEDIATE RELEASE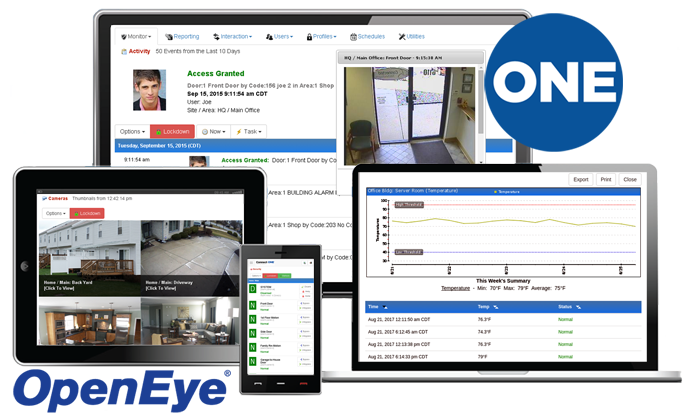 Security dealers request interface; Open Eye and Connected Technologies listened and delivered
Monument, Colo., and Liberty Lake, Wash., October 15, 2018—Connected Technologies LLC, maker of a powerful cloud-hosted security management platform and OpenEye®, an innovator in cloud-centric software solutions for video management, business intelligence and loss prevention, announced an exciting new integration between OpenEye Web Services (OWS) and Connect ONE®.
Connect ONE by Connected Technologies is a cloud-hosted integrated security management platform which provides a single user interface to control intrusion, access control, critical environmental monitoring, energy management and video surveillance. OpenEye OWS is an online video management solution that combines the performance and reliability of local recording with the convenience and flexibility of the cloud. Now, the OpenEye NVR and the Connect ONE cloud platform are accessible directly through the OWS cloud.
The integration eliminates the need to connect to an IP address or to open an inbound port on the end-user's network firewall. Once connected, Connect ONE users can quickly retrieve and easily configure OpenEye cameras, view live video, record snapshots upon an event from the Intrusion/Access System for video verification or review a 10-second Pre-Event and up to 45-second Post-Event video clip. Another future feature release will include the ability to receive OpenEye NVR health status reporting as well as motion or input trigger events through Connect ONE.
Integral connectivity
"We're excited to offer this capability to OpenEye and Connect ONE users," said Rick Sheppard, Chief Executive Officer of OpenEye. "OpenEye is committed to offering integrated solutions that add value and enhance functionality for our customers through strategic partnerships such as this one."
Dan Simon, Co-Founder and Managing Partner, Connected Technologies, said technology partnerships with industry leaders such as OpenEye allow dealers to add new capabilities and services to their customer's systems. "Connected Technologies is founded on delivering the timeliest solutions to security dealers. In fact, this integration was created due to dealer's requests. The OpenEye integration adds value to their projects, brings exciting capabilities through a single user interface and helps them differentiate their service offerings."
About Connected Technologies LLC*
Connect ONE® and ScanPass® Mobile Credential are products of Connected Technologies, LLC. The Connect ONE cloud-hosted interface manages multiple solutions such as security, access control, mobile credential access, video, energy management, critical environmental monitoring and now, CheckPoint Tours, with an easy-to-use platform accessible from PC, laptop, smartphone or tablet. Connect ONE interfaces with the complete line of Bosch Security, DMP, Elk Products and Honeywell Turbo controls and provides an easy path to add managed services. For more information, visit www.simplifywithconnectone.com or call 866.976.3520.
About OpenEye
OpenEye is an innovator in the design and development of cloud-centric software solutions for video management, business intelligence and loss prevention. All OpenEye Web Services platform software is developed in Liberty Lake, Washington and many of OpenEye's products are made in America. For additional product or company information, go to openeye.net.
*All Connected Technologies' brand and company/product names are trademarks or registered trademarks of Connected Technologies, LLC all rights reserved.
Connected Technologies Media Contact:
Deborah O'Mara
dlocommunications@gmail.com
773.414.3573 (m)
OpenEye Media Contact:
Ryan Patterson
marcom@openeye.net
509.232.5261