Press Releases
September 9, 2016
Packaged Solution Helps Dealers Expand Security to New Markets [Show All]
Commercial "All in One" Package from Connect ONE® pre-engineered for quick-start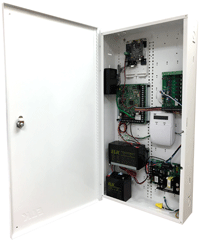 Crystal Lake, IL, September 9, 2016–Perhaps you have a facilities manager or end-user customer who would prefer doing their own security installations, or has an engineering staff to handle system upgrades and enhancements. You can still reach those clients with the Commercial All in One Package from Connect ONE® -- a completely turnkey integrated solution that also lets you earn significant recurring monthly revenue (RMR). This is also the perfect application if you are thinking about offering a DIY commercial product to your customers.
Cost effective and simple to deploy, the Connect ONE® Commercial All in One Package is ready to go out of the box with access control, intrusion, HVAC and lighting control, temperature monitoring and video verification. Now, you can put together a cutting edge specification for your customer that's cost-effective, simple to deploy and works seamlessly – delivered pre-programmed to the Connect ONE® cloud-hosted interface and ready for your customer to install.
Easy specifications equal more RMR
End users will like the fact that they can easily add this quick-start, pre-engineered system at their business or facility. Dealers can also provide for the growing 'parts and smarts' market. More and more IT departments and electrical contractors are willing to do the installation work but do not have the knowledge for purchasing the proper equipment. Why pass up these opportunities? Provide the Commercial All in One Package, remotely program the system and still gain the monthly revenue for the Connect ONE® service and central station monitoring. And, best of all, you can be more efficient on the job when you service all your customers remotely through the Connect ONE dealer portal.
This isn't some skeleton, bare-boned solution. This is a robust, cloud-hosted offering that includes eight doors (expandable) of access control with conventional readers and 203 doors when deployed with the ScanPass Mobile Credential feature. Integrated into the All in One, ScanPass Mobile Credential requires minimal wiring and unlocks doors fast using a smartphone or tablet, while easily affixed barcode stickers eliminate access control cards/fobs and readers.
The All in One also supports 10,000 users; eight intrusion zones (expandable); more than 200 time schedules; and rules-based engines that make it easy to configure and customize. Other standout features include: emergency lockdown, elevator control, video verification, energy management and critical temperature monitoring, all in a UL-listed enclosure with power and a safe, encrypted Ethernet communications connection.
Why walk away from potential business? There are so many new ways to provide integrated solutions to all your customers, whether professionally installed or DIY. The Connect ONE All-in-One Package helps you gain new markets and additional business. Call us today at (866) 976-3520 or find out more here.
-30-
About Connected Technologies*
The Connect ONE web-hosted interface manages all solutions – security, access control, video, critical temperature monitoring and more, from an easy-to-use platform accessible from pc, laptop, smartphone or tablet. Created with both user and dealer in mind, Connected Technologies partners with leading industry firms, such as Axis, Bosch, Exacq, Barix, DMP, ELK Products and others.
Connected Technologies represents a different type of product service provider. Founded by former alarm dealer Michael Simon along with his son Daniel, the company hires personnel with direct industry experience, to more accurately assess and deliver to meet the needs of the market. Simon was the owner-operator a local security company for over 40 years. "We truly understand the needs of dealers and their customers. Value-added services will not only grow a dealer's account base with stickier customers, but also provide a predictable RMR stream. Connect ONE was designed to simplify integration offerings and create value-added services," said Mike Simon, Managing Partner.
To find out more, contact Connected Technologies at (866) 976.3520. See the growing list of Connected Technologies, LLC integration partners as well as the just-released ScanPass® Mobile Credential for simple but powerful access control without door readers or user cards.
*All brand and company/product names are trademarks or registered trademarks of Connected Technologies LLC, all rights reserved.
Media Contact:
Deborah O'Mara
DLO Communications
dlocommunications@gmail.com
773.414.3573 (m)