Press Releases
September 1, 2015
Connected Technologies adds Bosch control panel support to cloud-hosted security management platform [Show All]
Security Sales & Integration
-
http://www.securitysales.com/article/bosch_security_systems_connected_technologies_partner
Security World
-
http://security.world/connected-technologies-adds-bosch-control-panel-support-to-cloud-hosted-security-management-platform/
Security Info Watch
-
http://www.securityinfowatch.com/press_release/12122428/connected-technologies-adds-bosch-control-panel-support-to-cloud-hosted-security-management-platform
Dealers and integrators can offer a complete suite of security services to residential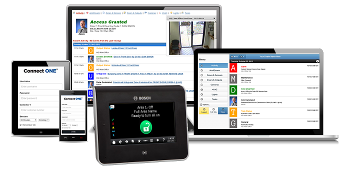 and commercial customers through a new partnership between Connected
Technologies, LLC, Crystal Lake, Ill., and Bosch Security Systems,
Inc. Connect ONE® the flagship security management platform from Connected
Technologies now integrates seamlessly with the B Series and new G
Series security control panels from Bosch.
Connect ONE lets users control and manage solutions that include security,
access control, video, energy management, and more from an intuitive interface
that is accessible from a PC, laptop, smartphone or tablet. Through Connect
ONE, users with B Series or new G Series Control Panels can check status,
arm or disarm systems, view live video or snapshots from Bosch IP cameras
integrated with the panels, and lock, unlock or secure doors within G Series
systems that include access control. They can also add, remove and
change passcodes and access credentials using the Connect ONE interface.
Dealers have the flexibility to select the most appropriate level of service for
their business and their customer. They can fully administer the solution for
their customer, have the customer manage it, or provide a blended service offering.
"With the integration, Bosch dealers now have interactive services supported
by the cloud that allow them to expand their customer base through additional
market verticals and grow their recurring monthly revenue," says Mike Simon,
a former dealer and managing partner, Connected Technologies. "We're excited
about this partnership and will work closely with Bosch to continue to
make the offering more robust and conducive to dealers who want to grow
their profitability by providing additional, valuable interactive services to their
customers."
"Through the integration with Connect ONE, we're able to offer dealers and
end users even greater flexibility for interacting with and controlling their
Bosch systems – whether they prefer a laptop, tablet or smartphone," says
Tom Mechler, applications design manager, Bosch Security Systems, Inc.
"This enhances the user experience and allows our dealers to increase their
competitive edge by providing greater value to their customers."
The Connect ONE dealer portal allows dealers to view and control all their
customer's devices and locations on one screen, which can help eliminate the
need to roll trucks for site visits and reduce support costs. There is no software
to manage and no user licensing fees required.
For more information on Connect ONE, visit www.simplifywithconnectone.com
or call 866-976-3520. For more details on the B Series or new G Series Control
Panels from Bosch, visit www.boschsecurity.us or call 800-289-0096.
About Connected Technologies:
The Connect ONE web-hosted interface manages all solutions – security, access
control, video, critical temperature monitoring and more from an easy-touse
platform accessible from PC, laptop, smartphone or tablet. Created with
both user and dealer in mind, Connected Technologies partners with industry
leading firms, such as Bosch Security Systems. Connected Technologies is
owned and operated by Mike Simon and his son Dan Simon, managing partners
and former systems integrators who are the developers of Connect
ONE®.
About Bosch Security Systems:
The Bosch division Security Systems is a leading global supplier of security,
safety, and communications products, solutions and services. More than
12,400 associates generated sales of 1.5 billion euros in fiscal 2014. Protecting
lives, buildings and assets is our aim. The product portfolio includes video
surveillance, intrusion detection, fire detection and voice evacuation systems
as well as access control and management systems. Professional audio and
conference systems for communication of voice, sound and music complete
the range. Bosch Security Systems develops and manufactures in its own
plants across the world. Additional information can be accessed at
Contact:
Anne Insero
Bosch Security Systems, Inc.
Phone: +1 585-678-3152
E-mail: anne.insero@us.bosch.com
Deborah O'Mara
DLO Communications for Connected Technologies
Phone: +1 773-414-3573 (m)
E-mail: dlocommunications@gmail.com