Press Releases
March 8, 2016
ScanPass® Mobile Credential Shown During ISC West at ELK Products Booth 7033 [Show All]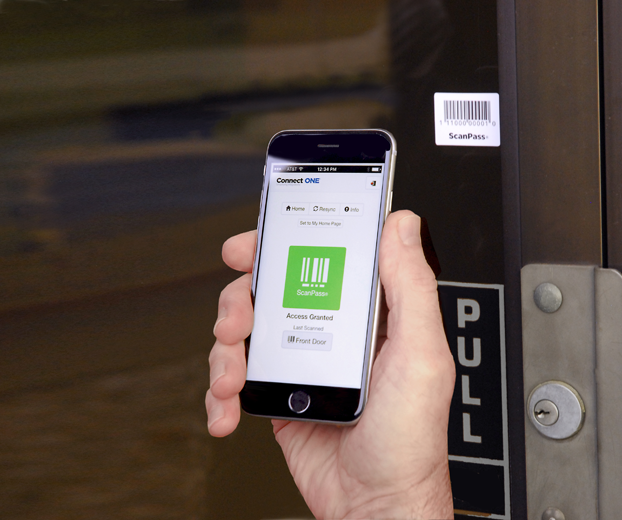 Barcodes and smart devices can be alternatives to access readers and access cards/fobs
Crystal Lake, IL, March 8, 2016—Connected Technologies, LLC partners with ELK Products, Inc. enhancing the access control capability of ELK's M1 Cross Platform Control®. The integration between ELK's M1® and Connected Technologies' renowned Connect ONE® cloud service provides enhanced user management and activity logging options. The addition of the Connect ONE Access Expander and ScanPass® Mobile Credential increases the access control capabilities of ELK M1 to as many as 203 access points and 10,000 users.
ScanPass Mobile Credential is the latest convenience application powered by Connect ONE. A barcode sticker affixed at an entry point is read by smart devices for approved users to gain entry. ScanPass Mobile Credential requires no software to install or maintain, eliminating access control cards/fobs and the installation of readers. It integrates seamlessly with the ELK Products M1 Controls, allowing dealers to easily add a new value proposition and great convenience for new and existing customers. ScanPass Mobile Credential will be shown at ELK booth # 7033 at ISC West.
"The Connect ONE Access Expander provides exciting enhancements to the ELK M1 with expanded user support, schedules, and event history. ScanPass takes this a step further, offering intuitive access control via mobile devices and supporting an expanded number of access points. This enhanced capability adds value and convenience, giving installers an edge and opening new possibilities in a variety of commercial markets," says Amy Strickland, Marketing Design Manager at ELK Products.
ELK's M1 Controls combine security, energy management, and integrated control solutions to provide comfort, convenience and simplicity for home and business owners. Simple, yet powerful, on-site and remote user interfaces give consumers full control anytime, from anywhere. Visit ELK booth # 7033 for a live demonstration of the M1 Cross Platform Control.
"We're excited about the integration of ScanPass with the large installed base of M1 Controls from ELK Products," says Mike Simon, managing partner of Connected Technologies. "There are so many advantages for the user and integrator. ScanPass as a convenience function allows companies to differentiate themselves from the competition," he said.
The ScanPass Difference
ScanPass Mobile Credential is unlike any other smartphone or mobile access control device on the market in that it offers greater connectivity options—including premise network or cellular—for users to gain access to interior or exterior doors in and around the facility. With the ability to use different communication pathways, users are assured of instant accessibility. ScanPass Mobile Credential users simply point their smartphone or other device credential at the barcode sticker and the barcode designates the proper door to be unlocked for entry. ScanPass Mobile Credential does not require the user to scroll through a lengthy dropdown list to locate the door to be unlocked. It also does not require a dedicated reader or additional hardware in the smartphone, in the example of Near Field Communication.
Contact Connected Technologies today for more information at 866.976.3520.
About ELK Products Inc.*
ELK is a leading designer and manufacturer of customized home and business security, energy management and convenience solutions. For over 20 years, we have created a trusted brand with simple, yet innovative products that have now become industry standards. Our customer service is world class and we stand behind the products we sell with industry leading technical support and warranty. We are focused on creating products that secure and simplify life. In the rapidly changing security and automation market, ELK partners with industry leading manufacturers to offer full featured and personalized solutions for security, lighting, environmental control, energy conservation, access control, and management of just about any electrical feature in the home or business. For more information, visit www.elkproducts.com or call 800.797.9355.
About Connected Technologies LLC**
ScanPass® Mobile Credential and Connect ONE® are products of Connected Technologies, LLC. The Connect ONE web-hosted interface manages all solutions–security, access control, video, critical temperature monitoring and more, from an easy-to-use platform accessible from PC, laptop, smartphone or tablet. Created with both user and dealer in mind, Connected Technologies partners with leading industry firms. For more information, visit www.simplifywithconnectone.com or call 866.976.3520.
*All ELK Products' brand and company/product names are trademarks or registered trademarks of ELK Products, Inc., all rights reserved.
**All Connected Technologies' brand and company/product names are trademarks or registered trademarks of Connected Technologies, LLC, all rights reserved.
Media Contact:
Deborah O'Mara Managing Director
DLO Communications
773.414.3573 (m)