THE CONNECTED CLOUD
News & Feature Updates
New Visitor Management Features and Capabilities
Connect ONE Visitor Management provides tracking of visitors and guests and integration with access control systems plus Safe Passage for self-approval of health, training, and/or legal waivers. Many of these new features can also apply with integration of external visitor management services via our webhook/api methods (webhook description in a separate section below).
Once a user profile is designated as a Visitor, any users assigned to the profile are now recognized as visitors for filtering capabilities in reports and lists, and new actions exist for assigning a visitor to a host and applying check-in and check-out dates which are logged as events to capture to a visitor log. The assigned host option is provided so that they can be notified when the user checks in.

User Profile Edit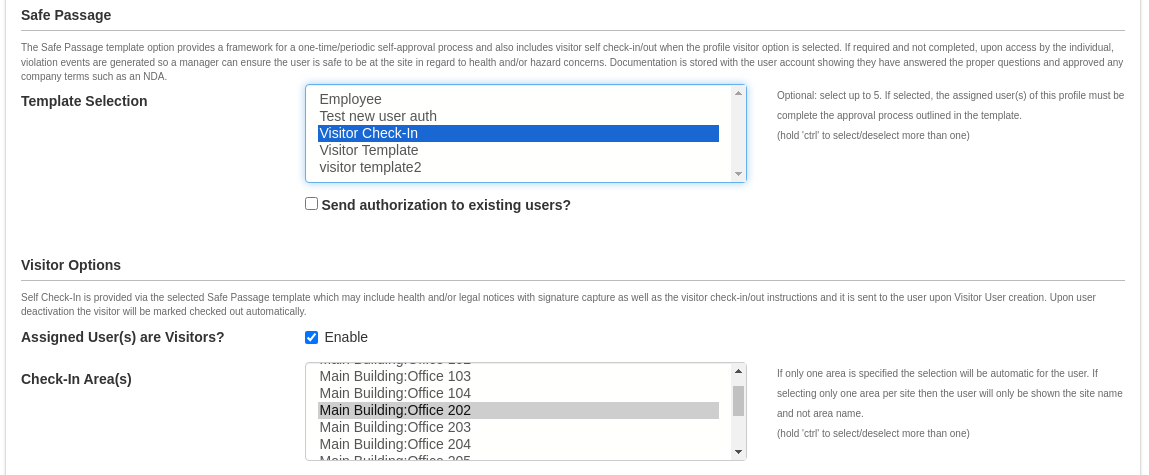 Visitor management may also be combined with Safe Passage, via the user profile, which will allow for a self-approval process to be completed with optional health, training, or legal waivers and a self check-in/out for the visitor. When Safe Passage is applied, the visitor will receive an email or SMS with a link to complete the authorization, no login for Connect ONE is required. There may be optional questions/waivers to answer or just a signature is required to continue. The template might also be set to capture the person's image from their phone/tablet camera which will be stored in the approval document and may be applied as the visitor's image in the application.

Safe Passage Template Edit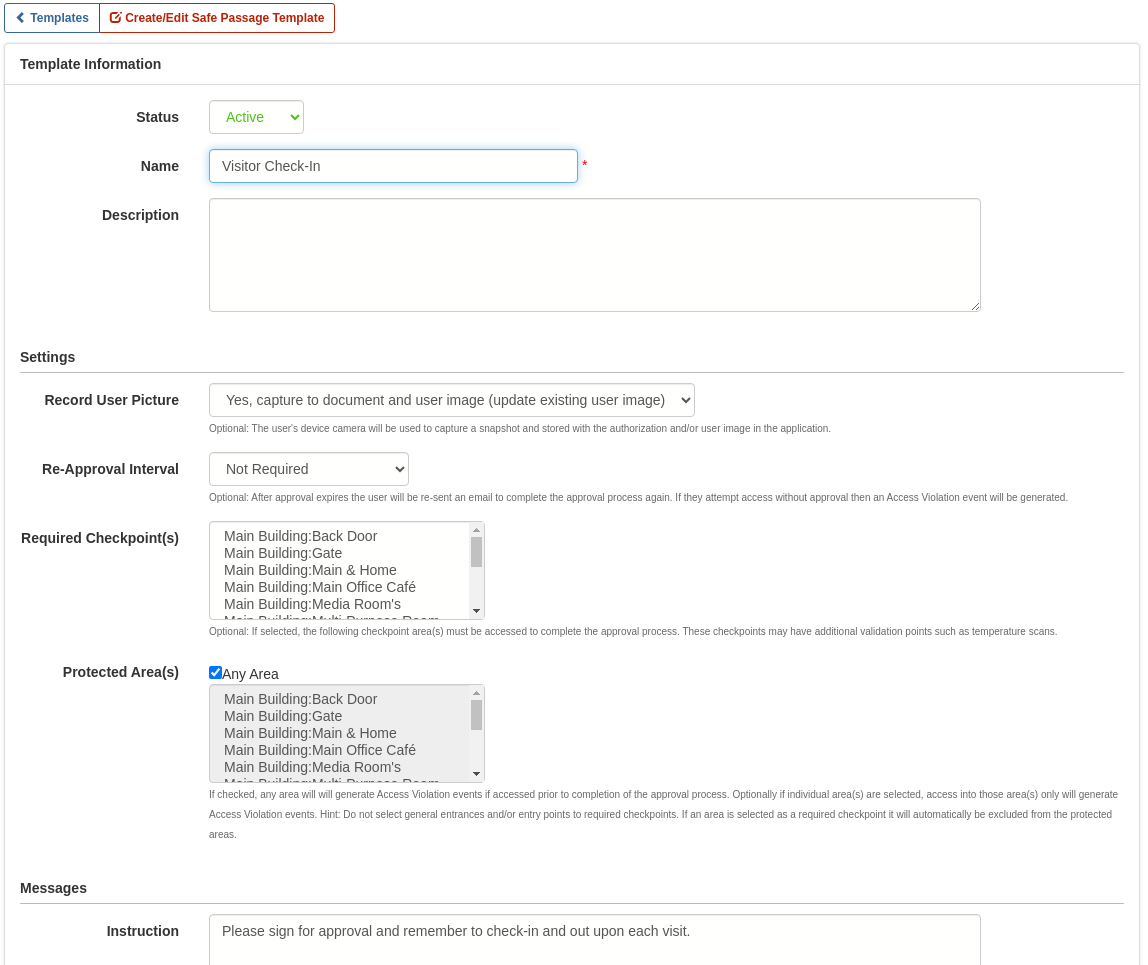 Upon creating the user, you may specify the email or SMS contact address to receive the Safe Passage link or it can be completed in the application if personnel on site is with the visitor at the time of creation. Also, the host can be assigned for notification on their arrival. Access System Credential Integration to the facility which could be a traditional card, ScanPass mobile credential, Farpointe bluetooth credential, or QR code to be used with barcode access readers which output wiegand. All of these formats can be delivered to the visitor via email or SMS from within Connect ONE upon their creation.

User/Visitor Edit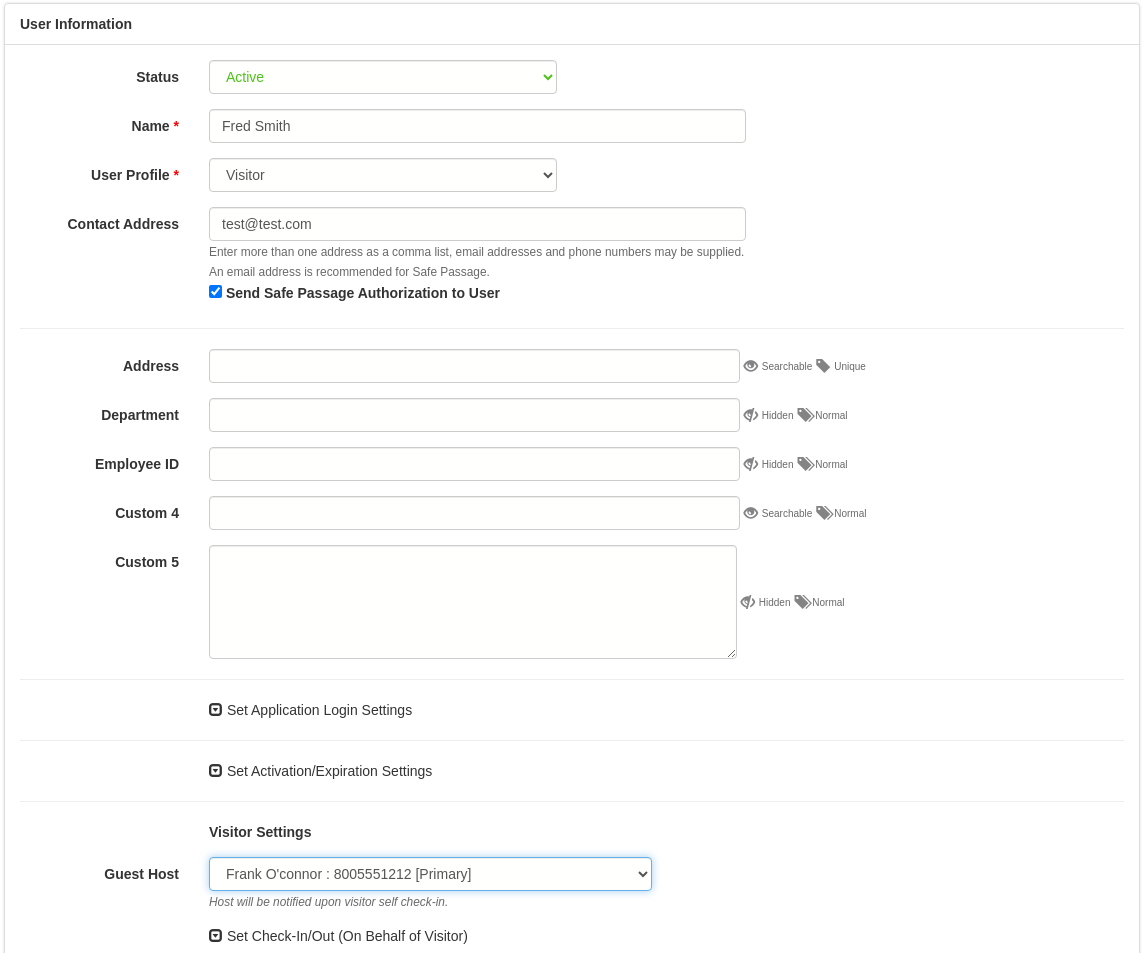 The visitor will use their own device to approve the Safe Passage authorization options and then they will be provided check-in and check-out options. When they check-in they can add a custom message to be sent to their host and they will also choose the area they are checking into, these areas are defined in their user profile, and their host will be notified of their arrival.
| | |
| --- | --- |
| Visitor Authorization | Visitor Check-In/Out |
| | |
Once the visitor is checked-in they will now appear in the In/Out User Dashboard (displays user access activity too), they will add to the totals in the Site Occupancy Report, they will be accounted for in the Exit Exception Report (which may be used as a muster list), and all check-in/out activity is logged in the Event Activity Report. The user may check-out via the same link they received, personnel with Connect ONE access can check them out on their behalf or upon their user account becoming inactive or deleted, it will automatically check them out. The user may have an automatic activation and/or expiration date to handle the deactivation process without any intervention.

List Filtering Capability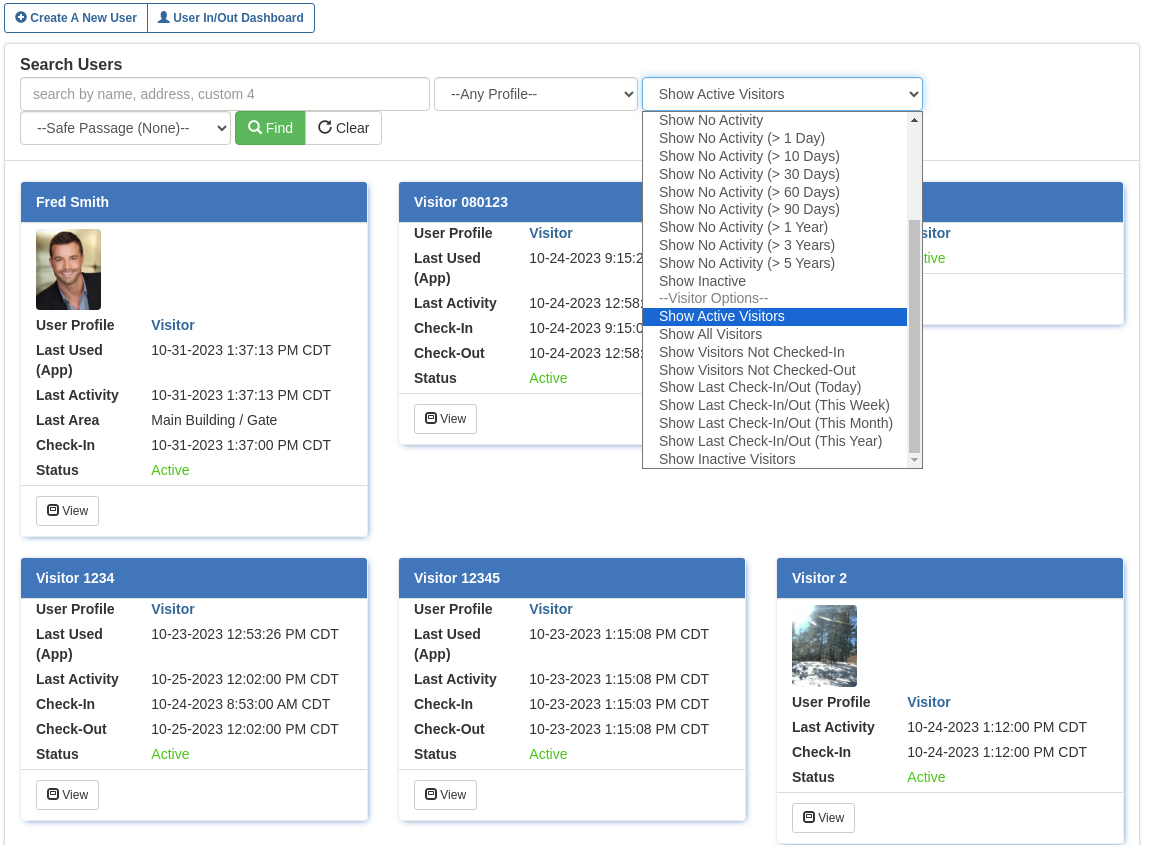 In / Out Dashboard (Real-Time)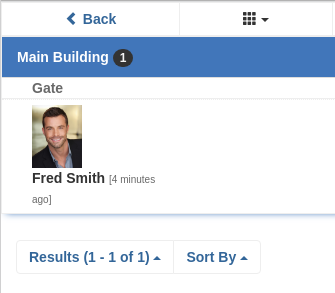 Site Occupancy Report

Exit Exception Report (Muster List)

Visitor Logbook (Event Activity Report)

Recent Usability Improvements
Customer Management Portal
Event Rule Filter Options: Now event rule filters can be specified on-the-fly which will automatically create the associated Report when creating a new Event Rule.

User Activation/Expiration: Now the user can be set with an activation and/or expiration date. Previously the system code had this capability but now the user can be set which can become global for all the user's codes and if the user doesn't have codes then the user record itself can follow the activation / expiration timing.
User List Expanded: The User List report has been expanded to include deleted users, when selected, and created/last modified timestamps.
User Profile Option added "Share with Subordinate Profiles": Since it may be possible for personnel of lower authority in Connect ONE to manage visitors, a new option was added in the User Profile called "Share with Subordinate Profiles (View Only)". This setting is enabled on upper authority profiles so their user information can be shared with subordinate profiles of which they normally would not be able to see. The information viewable will include: activity, contact addresses, cases, and assets, and exclude: system codes, and restrict modification of the user. Now the visitor administrator will be able to assign the visitor to any host user and be able to send that host a message upon the visitor's arrival if necessary. This is also a good option for guard profiles so they can see the activity of all users for monitoring purposes.
Dealer Administrative Portal & System Updates
Bosch Firmware Tip: On panels connected via the Remote Connect Cloud it is recommended not to enable both ethernet and cellular connectivity to the remote cloud unless the panel is running version 3.14 or greater. There are many connectivity improvements in this firmware version and it is recommended to upgrade if your customer has been experiencing any connectivity issues with the Bosch cloud connection. Please keep in mind for the panel to really utilize the 3.14 firmware features it needs to be pushed from RPS 6.14 so it knows and "sees" the new DNS parameters and uses the entire logic with the new isolated DNS parameters per communication medium (Ethernet and cellular) this will correct the failover and you should see greatly enhanced stability around the cloud solution.
Mircom FACP Event Logging: Mircom FX fire alarm control panels are now capable of being connected via the Barionet Network Gateway for full-data event logging into Connect ONE. More Here
Farpointe Conekt Bluetooth Mobile Credential Integration: The integration allows for a seamless method to enroll these credentials in Connect ONE. When you order Farpointe Conekt Mobile Credentials from your vendor, you will be supplied a spreadsheet which will be imported into Connect ONE. When creating the System Code for the user they select from a list of available credentials, the code number automatically populates to the panel and Connect ONE sends the user an email/SMS with instructions of how to use the credential with an app download link and QR code to load the credential into the app. More Here
TIP: Check the Configuration page for the Device as it includes recommended programming for the particular product and firmware version.
Task Integration for Guests, Visitors, or Anyone
A new task integration web page link sent via email or SMS without requiring a user login.
Task Rules are powerful actions which can combine just about any system command into a single button click. Now you can also provide these customized actions to any user via the Integration option found under the contact information, such as email or SMS address, and they will receive a PIN and URL link which will allow easy operation of these Tasks without requiring a login. This is a great option for guests and visitors since they do not need a login nor a credential and the task integration may be revoked at anytime.
Tip: The user may save the link to their phone homescreen for convenient access by tapping the Connect ONE icon.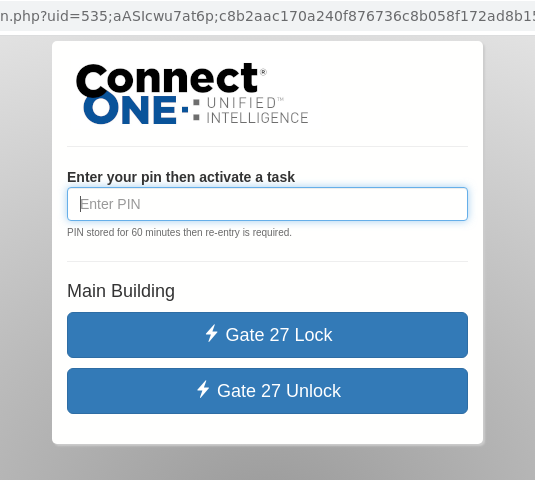 Camera Image Proxy Service
A new service for browser/application compatibility with IP Cameras.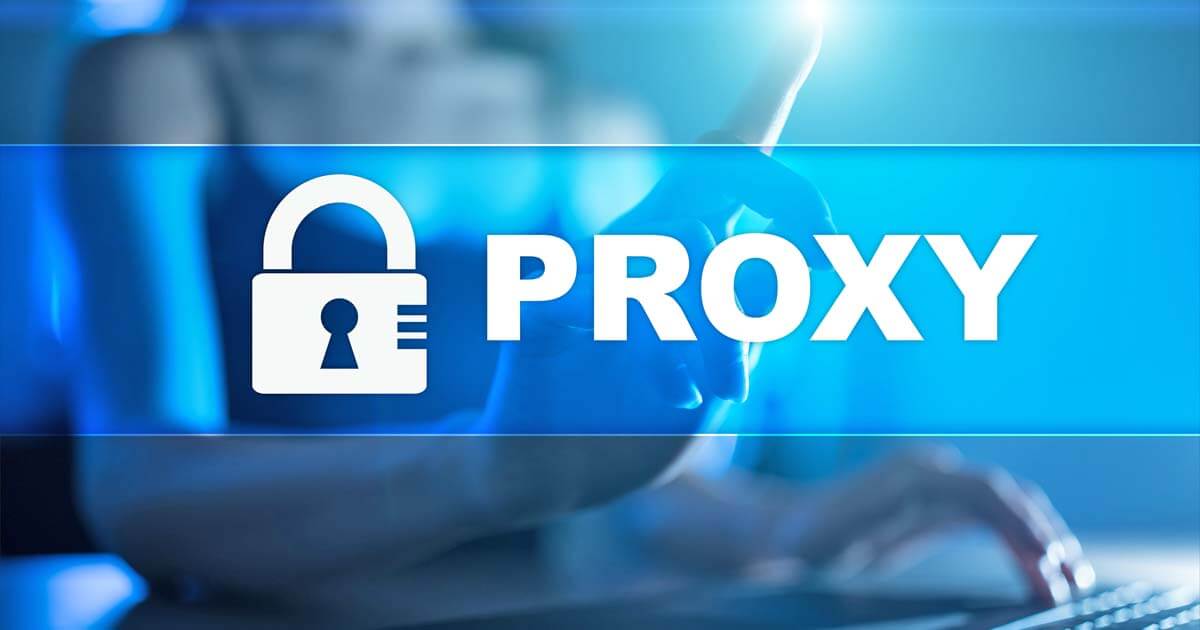 Browser and application requirements have become more stringent over the years which has caused viewing issues of certain camera devices, primarily direct IP cameras. The new Camera Image Proxy service alleviates these issues to allow direct IP cameras to be viewable in all Browsers and Apps.
Camera images are acquired via Connect ONE servers and sent to the Browser/App for viewing. Customers may firewall connections to the camera(s)/NVR using the supplied IP/hostname(s) in the Dealer Manual. This service is optionally subscribed, at an additional charge, for certain camera devices to satisfy authentication and image encryption requirements of certain browsers and applications. This service is NOT required to satisfy said requirements when the device is connected via the Exacq Cloud, OpenEye OWS, Eagle Eye Network, DW Cloud, or Hanwha Wisenet Cloud services as these services already provide authentication and encryption. At present time, Firefox and the iOS App allow for camera viewing without this service.
This new service also allows Avigilon Alta (previously Ava Security) systems to be compatible with live & playback viewing directly in the Connect ONE application.
Please review the Device Compatibility List for more information.
Webhook Integration with Visitor Management Platforms
Method for user creation, activation, and deactivation from external systems.
The Webhooks are a part of the UserAPI and therefore the UserAPI service must be subscribed. Once configured, external systems can trigger incoming webhooks to Connect ONE to add a new user with system code including additional parameters such as activation and expiration dates. Another webhook may be triggered to deactivate a user. More Here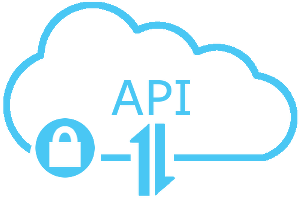 IMPORTANT TIP: SMS Messaging Enhancements
We understand Connect ONE's email deliverability is a core function and we have several considerations in place to ensure your customers' notifications are received. We have a dedicated IP pool exclusive for email, we have proper SPF records, DKIM signatures, and DMARC records. We do not send anything via the IP pool except Connect ONE generated notifications. We also actively monitor for blacklisting and are not listed. Our complaint rate is 0%. Yet with all this we still experience random bounced messages from the cellular carrier's email->text gateway service method, i.e. Ph#@carrier.net, alternatively SMS messaging is a reliable method for your customers to receive notifications.
Connect ONE offers an enhanced SMS messaging service that provides reliable delivery as a true SMS message since it doesn't utilize the carrier email to text option. The expanded SMS service is subscribed on the customer level, please see the Connect ONE price guide for package information, the price guide is available on the Home tab of the Dealer Administration Portal. The carrier email to text option will continue to be included in the base service level at no additional charge.
This is a great option for critical messages which require reliable delivery and will continue without management changes if the customer changes cellular carriers since only their phone number is specified for delivery.
Tip:
Customer Add-On Modules
Add-on modules are super easy to setup for your customer - requiring little to no configuration - build more RMR!
Give Us the Challenge...
We love hearing from our Dealers with requests from their customers to help solve challenges.
Please contact us and give us the challenge, we may be able to design something for you, and together we can watch your company reach the potential you always knew was possible.

Send us your feedback
Stay Up-to-Date
We will continue to include the enhancements in this newsletter.

We also post the enhancements to our "Company" page and "Group" page on LinkedIn, as well as to the "Feature Blog" tab on our website.
Please contact us for your invitation to join the "Group" on LinkedIn.

Also, be sure to review the Home tab on the Connect ONE Dealer Site as this will contain many helpful Sales Sheets and Technical Guides.

We encourage you to visit these sites to stay up-to-date.
Working hard to Simplify all your System Integrations,
The Staff at Connected Technologies.
For more information regarding Connected Technologies™ or Connect ONE®, please visit www.SimplifywithConnectONE.com or call (866) 976-3520.
Connected Technologies, LLC., Monument, CO 80132-1266