Video Verification - Simple, Affordable, Powerful
Deliver even more value to your customers on the PRO Service Level with included video verification. Now Interaction Rules can be configured to capture snapshots of up to 5 cameras which will be stored in the cloud for one year. The customer can view the recorded snapshots along with live video onscreen in real-time, through generated reports, and via email when the event occurred. The snapshot capture and live viewing works with all compatible DVR,NVR, IP camera devices (see logos on the partner page) and on ExacqVision/GanzVision devices the customer can also retrieve 10 seconds pre-event and 45 seconds post-event all from the same screen without needing to login (see example screenshot below)!
Included in the base PRO Service Level are 100 video events per month, for an additional fee the customer can increase that limit by 10,000 events for a grand total of 10,100 video events per month. This feature can be used for more than alarms, it can be used for any event sent by the control panel including access events. Another application could be access into a restricted area, not only will the event be logged but now snapshots will also be logged and saved in the cloud for one year. Just imagine the power of the report which shows the access activity and recorded snapshots all in the same place.
View a video online at: http://www.simplifywithconnectone.com/connectOne/video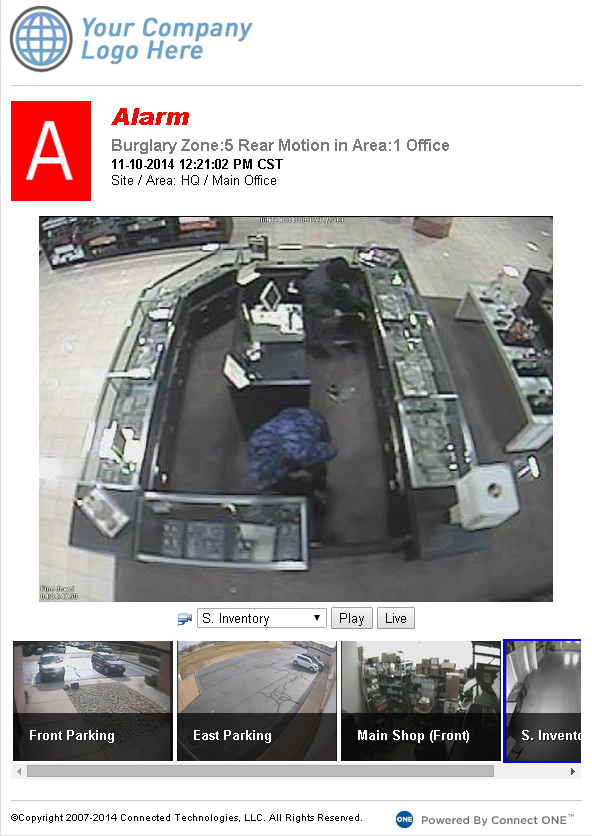 Improved Camera Viewing
We've improved on the 1fps camera viewing to now near real-time for a better customer experience. We've also added 2 new DVRs to the list of compatibility, Everfocus ECOR and Digital Watchdog VMax.
Triggered Lockdown Commands
A new action rule option has been added allowing an event to trigger the lockdown command to be sent to one or multiple control panels. This would typically be triggered by an onsite panic button, when pressed the button can generate an event to Connect ONE which would trigger the lockdown at one or all campus buildings automatically.
ELK M1 Systems - Now showing Unauthorized Access Denials
Previously, when a user presented their card to an unauthorized area, the event recorded a generic unknown code, now there is a lookup to see if the card number is valid in other areas and if it's found, the event will be saved as an Access Denial in an Unauthorized Area and will include the user's name.
Timed Auto-Forgive Anti-Passback Violation
Now the customer can choose a timed interval to send an automatic anti-passback forgiveness to all users. This would typically be setup for an off-hour, for example, 4am, essentially restarting the new day or week fresh.