Feature Blog
June 2, 2014
Faulted Zones are now displayed alongside the Arming Status [Show All]
Now faulted zones are shown when the area is disarmed, hovering or tapping will show a list of zones faulted.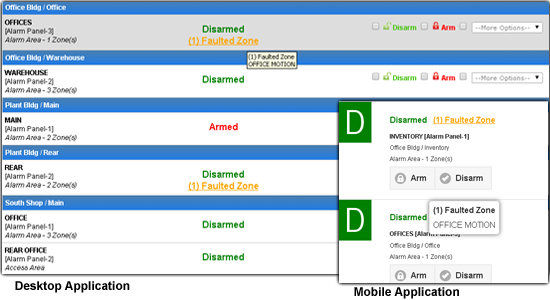 See What Others Are Saying...
"We rely on Connected Technologies for technical and customer support. We have requested software and feature upgrades for our customers and if it's possible it happens within 24 hours. We use Connect ONE in our own business and the reporting features are outstanding."

--James Lee
President and partner at Alarmguard Security
"Connect ONE offers a simple, scalable solution that complements the Aperio offering perfectly. This integration will offer dealers and end-users a highly flexible solution for comprehensive access management."

--Mark Duato
Executive Vice President, Aftermarket at ASSA ABLOY Opening Solutions Americas
"Whether it's a commercial office, retail, storage, or multifamily development, the incredibly versatile Connect ONE has allowed me to gain the flexibility needed to confidently meet the demands of those development markets."

--Ryan Christen
Sales & Systems Engineer at Vialarm Security
"Because we serve national accounts across the country, when they acquire other locations or add facilities we can bring them online quickly without having to completely replace the infrastructure or conduct extensive programming."

--Matt Harrison
Vice President of Operations at Federal Protection
"We're excited to be working with Connected Technologies to offer this service to our dealers, whose feedback has been extremely positive as they continue to add customers."

--Tom Mechler
Regional Marketing Manager for Bosch
"We had an incident after the system was installed that validated the importance of having this safeguard. With the system we were able to make sure a former employee could not get back into the suite, which was simple to do with ScanPass Mobile Credential."

--Kris Kehler
CEO at Deby Pay Pro
"Our customers benefit from strategic partnerships like we have with Connected Technologies and all the possibilities it brings for loT connectivity."

--Rick Cadiz
Vice President of Sales and Marketing, IPVideo Corp.
"Connect ONE's ability to simplify integration with a wide variety of technology really presents an opportunity for DW Dealers to provide complete solutions."

--Patrick Kelly
Director of IP Video Solutions at Digital Watchdog
"Thank you for listening and making the feature available so quickly! I really enjoy working with Connected Technologies."

--Dan Osborne
Project Manager at Schmidt Security Pro
"Connect ONE provides exciting enhancements to the ELK M1 with expanded user support, schedules, and event history. This enhanced capability adds value and convenience, giving installers an edge and opening new possibilities in a variety of commercial markets."

--Amy Strickland
Marketing Design Manager at ELK Products
"Flexibility is all part of the beauty of using a cloud-based management platform. My customers can manage it themselves from their smartphone app if they like. They can set their own schedules and we configure the Connect ONE GUI. If there's an emergency or other response required, the superintendent or management can use their smart device for access. It's all part of the Connect ONE app, which we use for many office and multitenant buildings."

--Gary Davis
Principal and Owner of Alarm Specialists
"Our biggest challenge today is disparate systems that don't work well together. Connect ONE gets them all to communicate."

--Ken Kocher
President of Force Security Solutions
"We want to make sure our suite is secure and the staff is safe. We are looking at upgrades in the future and with Connect ONE you can scale the solution up and tailor it to meet your needs."

--Frank McDonough
Director of Information Systems for Security Industry Association (SIA)
"Connect ONE was paramount in allowing Phoenix to offer a service that is truly connected across platforms. The company is unique in the respect that they operate with software that can be edited and modified—without having to wait years to get it."

--Eric Burroughs
Vice President at Phoenix Security Systems Inc.
"We have been deploying and migrating customers from site-based client servers to the cloud with very positive feedback. One of our customers, a senior housing facility, likes to have one platform to manage both access control and integrated alarm detection. We can administer different levels of access permissions through the cloud for the customer or they can do it on their own. Having an integrated system--access control, security, CCTV and temperature monitoring and control is important."

--Toby Stevens
Sales Manager for Ace American Alarm Company
"Initially, we toyed with the idea of developing our own cloud-based system, but we sent a technician to look 'behind the curtains' at the Connected Technologies solution and I was excited about the possibilities for my customers, especially the many school districts we serve."

--Michael Martin
President of Martin Systems
"Connect ONE is very user friendly, it saves me time administrating building security. Managing our employees is quick and easy since only a single entry is required to grant both security and access privileges."

--Julie Cerqua
Administrator of Wauconda Library
"Our company is in a rural area, we have been frustrated with long drives and expensive service calls to support legacy computer software and systems. Now with a simple to use dealer web portal, Connect ONE allows us to eliminate expensive service calls by supporting our customers remotely with just a simple login and a phone call that takes only a few minutes. Connect ONE is our biggest added value - profitable RMR for my company. My customers only need to learn one easy to use interface for their business and home."

--Jeff Kesterson
President of NightWatch Security
"Having the ability to see when employees are coming in for work really adds value. But the best feature by far is the ability to lock down all the doors from my computer or phone in the event of a lockdown drill."

--Matt VanEffen
Principal of Holy Cross Catholic School
"Connect ONE is very user friendly, it saves me time administrating building security. Managing our employees is quick and easy since only a single entry is required to grant both security and access privileges."

--Julie Cerqua
Administrator of Wauconda Library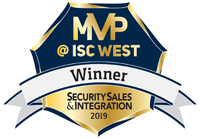 Want to become a dealer?
For more information complete the short form to the right. Stop installing software, we'll show you how. Ask about becoming an authorized Connect ONE dealer.
Dealers get a free lifetime testing account for your security business so you can experience the simplicity and better understand how Connect ONE can help your company!