The Commercial "ALL IN ONE" Package
Access Control, Intrusion, HVAC & Lighting Control, Temperature Monitoring & Video Verification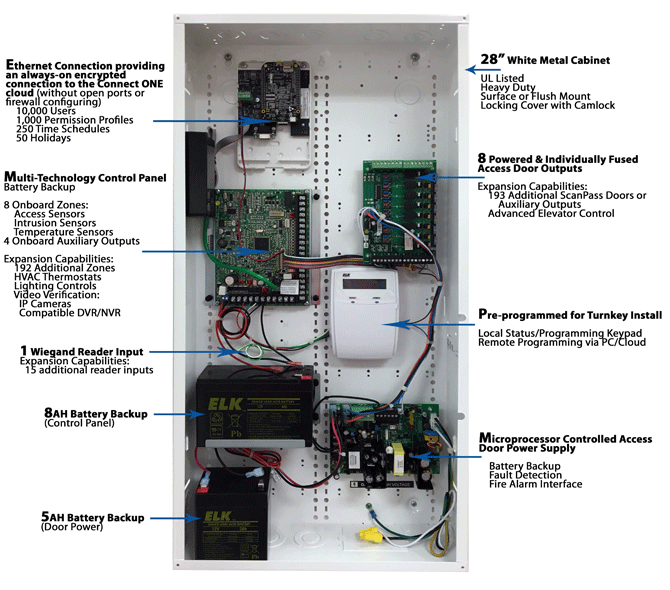 Welcome to the Next Generation of Integrated Platform in 5 Easy Steps...
1. Mount Cabinet & Connect Power
2. Connect Ethernet
3. Connect Access Door Lock(s)
4. Affix ScanPass® Barcode Sticker to Door(s)
5. Manage Account via Connect ONE
Included Accessories
(8) Door Lock Surge Suppressor Kits
(1) 16.5VAC 45VA Plug-In Transformer
(1) 3-Wire 6-Foot Power Cord
Just Add... (Not Included)
Ethernet Patch Cable
Locking Mechanism for Access Doors (Electronic Strike, Maglock, etc.)
Request-to-Exit Devices (If Required)
Built with proven "Best in Class" components
With the Commercial ALL IN ONE you get all of the great
Connect

ONE

®

features, plus:
Plug-in & Go
Instant Always-On Communication. No Network/Router Configuration Required, and No Port Forwarding. No Configuration necessary, Ready-To-Go right out of the box.
Access Doors
Up to 16 security keypads and compatible with ScanPass for 200+ access doors.
Zones & Outputs
Up to 8 partitioned security areas, 200 zones, and 205 outputs.
SmartPhone Mobile Access
No Readers to Install or Access Cards to Manage
Users
Up to 90,000 user codes consisting of keypad codes, 26-bit wiegand access cards & keyfobs, or ScanPass Mobile Credentials. Up to 1,000 profiles to define permissions including expiration dates and counters.
Schedules
Up to 250 time schedules to define access privileges and automatic door and output triggers. Up to 50 holidays which may span one day or multiple days using a date range.
Lockdown
Lockdown one building or multiple buildings in a single action and send custom notifications to concerned parties.
Quick & Easy Installation with Professional Support
Elevator Control
Complete flexibility providing access permissions for multiple elevators with individual floor control and scheduling.
Multi-Factor Authentication
Require two or more credentials for access authentication, can be from one user or mutiple users, such as card plus pin or two cards from different indivudals.
Powerful Rules-Based Engine
"Whenever/And/Then" RULES Programming allows almost any imaginable operation.
View & Manage One or Multiple Locations
Batch changes to multiple locations at once
Temperature Monitoring
Up to 8 Temperature Sensors may be connected for monitoring of critical environments. More sensors available with additional hardware.
Learn More
Video Verification
Link alarm, access, or any other event with Video from compatible cameras and DVR/NVR's.
Learn More
More
Virtual Anti-Passback, Configurable Door Prop and Door Forced Alerts, plus more.
Request More Information