Simplifying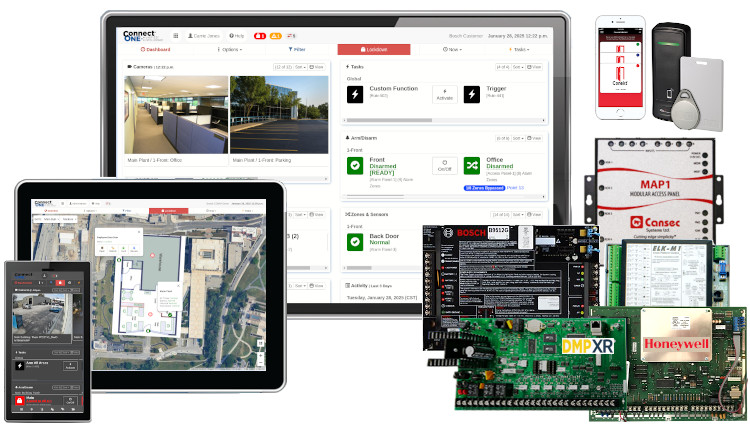 Whether it's one or a hundred locations with multiple panels, they can all be managed in real time from any web-enabled device on ONE screen with a single log-in credential. It doesn't get any easier.
No Software to Install or Maintain
Plug and Go – No Router/Firewall Configuration Needed
Network or Cellular Communication Capable
Generate New Recurring Monthly Revenue
Maximize Customer Retention
Branded with your Company Name and Logo, this is your service
Promotes Standardization for Training and Support
Alarm Transmission direct from control panel to your Central Station
Always Up to Date - Automatic Backup for Disaster Recovery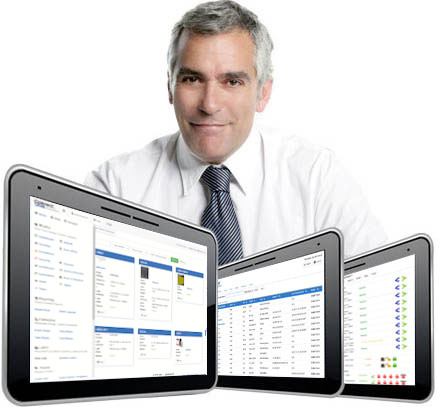 The business challenges from new technologies and increasing customer requirements, which are changing faster than ever, should not complicate your life. Connect ONE helps forward looking companies streamline their business by providing a service that connects all system integrations into one easy to use Cloud-Based Management Service. Connect ONE simplifies dealers installation/support and end user management of systems.

It's your service: Branded with your dealer company name and logo – You can even choose the colors schemes that are right for your company. Your customers can log-on to Connect ONE through your company's web site and stay on your site. This is not a link but a connection through your site.
As a Connect ONE Dealer you have complete control of all your customers' systems
Customer support is simplified because you have access through your dealer web portal to view, manage and control for quick and easy end user support. Seeing what the customer sees, takes the guesswork out of customer support issues.
Contact us to inquire about becoming a dealer.
It's your choice: match the level of service to your customer's needs.
Managing your integrations has never been easier with the Connect ONE security management cloud platform. Satisfy all your customers' needs and provide them the flexibility to decide whether they want to manage the solution, have you manage it, or blend and customize the levels of management and reporting to meet their security parameters. No matter what you decide, the interface is simple to navigate. Each approach allows you to custom design an RMR service plan specifically to the customer.
Three simple management options
End user Managed
Dealer Managed
Blended Service – you decide what you and your customer have control over
Additional Benefits
ONE interface that is designed for all market segments – Residential, Commercial, Industrial and Government systems
No upfront cost
Sales support with prospect demos
Training assistance for end user
Multi Tenant properties can be controlled by a single panel for security and access control, which saves money by using less equipment
Scalable pricing based on size of system(s) and services provided – affordable for all projects
End user collateral including brochures, sample end user agreements, Dealer Branded Connect ONE web access for end user, logo and color schemes
Dealer Site to help manage and support all your customers using Connect ONE
Alarm activations transmit directly to your central station – We are not in the middle which eliminates any possible delays dispatching emergency vehicles
Differentiates your company from competitors - Connect ONE is only available to authorized dealers
Sales Benefits
Sell to your prospect not their IT department – Connect ONE can eliminate IT concerns
Complete management and control from any web enabled device
Flexible; increase sales as the end user needs expand, Connect ONE can meet those needs including adding services and/or locations
Sales support with prospect demos
SmartShowTM Feature - the industry.s first tailored virtual demonstration, dealers can target specific markets - including Residential; Medical Facilities; Food Service Industries; Education; Commercial and Multi-Tenant; and Banking and Financial Facilities. Prospects will know you have the capabilities they need in an instant with SmartShow.
Same simple interface for every project
Installation Benefits
No Software to install or maintain
No network ports to open for incoming data
SmartTestTM Feature – Gives your technician real time information and control from any web enabled device for system status and operation – no need to keep running back and forth to the keypad for status information
Flexible; no additional hardware, works with manufacturer's network module and/or cellular communicator
Saves time and money – when the installation is done, it's done, no waiting around for your customers IT department involvement
Customer Support Benefits
Through your supplied dealer site, customer support can see and manage your customer's Connect ONE service for quick and efficient assistance
Easy access to customer's systems, no access codes or password concerns
Dealers can custom design the access privileges of the customer support group
Easy interface to manage for your Central Station Operator(s)
End User Benefits
Save time by connecting to all locations with ONE login
You now have simplified control to keep your buildings secure and energy efficient
No IT support required
Professionally managed and maintained offsite equipment
No downtime or loss of data due to computer hardware/software failures or changes
Compatible with all popular operating systems and web browsers
View multiple cameras from different locations on the same screen
Quickly add users into Connect ONE's database by only having to enter the data once for their security and access privileges, saving you time. Most other systems require multiple entries
Create customized on-screen alerts with audio, giving instant notification for security guards or others who need to be notified about important security concerns
View activity from one or more locations on a single report
Simple and Easy to access and use. No system or keypad knowledge required. Simple point and click experience. Roll your mouse over help icons for feature help information
Standardize with ONE Interface for Business Owner's office, home and vacation home
User API Service for Integration of End-User Business Software
Choose the Best Solutions for Your Customers